Aspen Wood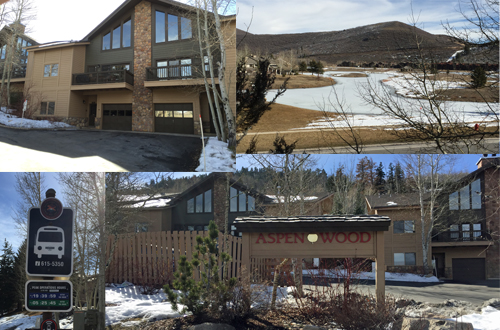 The majority of
Aspen Wood real estate
properties are conveniently located on Deer Valley Drive in
Lower Deer Valley
. Aspen Wood was built in 1980. There are 30
Aspen Wood condominiums
, which range in size from 1,880 square feet to 2,700 square feet, and have three to four bedrooms and three to four bathrooms.
Some of the Aspen Wood condominiums have undergone extensive renovations, and others are in "vintage condition," which makes for fairly significant prices variations in what seems, at first blush, to be relatively similar condos. All of the condos have garages and a hot tub which - in all but four of the units - is on a deck nestled into the woods behind the condos.
Things to Do in Aspen Wood
The Park City free bus has stops right out front of the condos, making it easy to get to anywhere in Park City. It has to be its location on Deer Valley Drive. From these condos you can easily get to all three of the Park City Ski Areas, but Deer Valley Resort has to be the most convenient. In the summer you just have to walk across the street to relax, try stand up paddling, or learn to fly fish on the Deer Lake Ponds. Year round you have easy access to Old Town, and just across the road is Deer Valley Plaza, where the Deer Valley Grocery-Café is located.
If you are visiting during the winter, get ready to be amazed by the unbelievable talent at the World Cup ski competitions held in Park City. If it's summer you prefer, Lower Deer Valley has you covered by offering some of the most world-renowned live music and entertainment around.
Schools and Amenities
Families who are year-round residents of Aspen Wood real estate have access to many schools, such as McPolin Elementary, Ecker Hill Middle School, Treasure Mountain Junior High, and Park City High School. Since the area is so close to Old Town Park City, there are many amenities such as doctor's offices and grocery stores nearby.
Overall, Aspen Wood condominiums have all of the components that make for the perfect place to make your next real estate purchase. You have easy access to skiing, restaurants, retail and grocery stores, schools and entertainment. Start looking for your Aspen Wood for sale property today!
Buyers - contact YouInParkCity.com for an in-depth Deer Valley Real Estate market analysis.
Owners - subscribe to our Quarterly Statistics Reports or contact us for a personalized property value analysis (435)962-9472.
Aspen Wood Condos For Sale
did not return any results.
Loading More Results