Red Ledges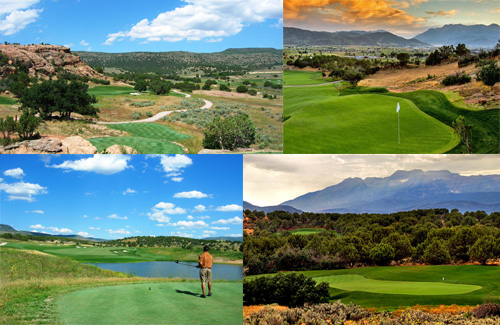 Red Ledges Real Estate in Heber City, Utah (about 20 minutes from Park City) is a master planned community designed around a Jack Nicklaus signature golf course. The community covers over 2000 acres (it actually nearly doubled the size of Heber City when the area was annexed into the city). The master plan calls for nearly 1200 homes in a recreational focused community.
While the golf course is the current centerpiece of this community development (the full 18 hole course is open and there are future plans for a nine-hole "short course"), in time the focus will change. The golf courses will provide a beautiful backdrop nestled in the red rock somewhat desert like terrain. The "village center" portion of the Red Ledges community is designed to be the centerpiece of the development, with a variety of beautiful Red Ledges homes for sale.
The village center will be walking distance to the planned Cliff Drysdale tennis academy. It is slated to be the first if its kind in the western United States. The tennis center will feature hard courts and clay courts indoors and outdoors.
The Red Ledges community already has many public equestrian trails running around the community's boundaries and throughout the 400 acres of open space. There are plans for a full equestrian center to be located on the south eastern end of Red Ledges. The equestrian center will feature indoor and outdoor riding arenas as well as horse boarding for club members.
A private ski chalet at Deer Valley Resort is also in the works for the Red Ledges community owners. Deer Valley, the number one rates ski resort in North America is only 10 minutes from Red Ledges. Snowmobiling, snowshoeing and cross country skiing will also be available to Red Ledges owners during the winter months.
There is a (Jim) McLean Golf Academy also slated for the Red Ledges community. This teaching academy should draw students to the area from around the world. The driving range and short game facility are already in and ready for use. From the looks of it, it will provide a great working space for the teaching academy.
All those who own Red ledges Real Estate will have a "lifestyle membership" providing access to club amenities other than golf including: tennis, swim club & fitness facilities, spa, ski lodge, adventure cabin, kids' camp, and clubhouse dining. There will be only 400 golf memberships. So while there may be 1200 residences when the development is complete, only a minority of owners will have golf memberships. The overall community will provide a much broader four season focus.
Of course, there is much more than Red Ledges homes for Sale and Real Estate in Park City! Check out the other amazing neighborhoods we offer properties in today: Non-gated communities, Victory Ranch, Tuhaye, Promontory
Red Ledges Homes and Land For Sale
523 N Red Mountain Court
$4,100,000
Red Ledges 33
Red Ledges
Heber City, UT
Single Family
7016 sq ft
4 Beds / 6.00 Baths
0.88 acres
#12102622
Jerry Urwin - KW Park City Keller Williams - 9177505918
Days on market - 93
1689 N Chimney Rock Road
$3,990,000 Pending
Red Ledges 33
Red Ledges
Heber City, UT
Single Family
5757 sq ft
4 Beds / 5.00 Baths
0.91 acres
#12102370
Paula Higman - - 4356028228
Days on market - 39
228 N Ibapah Peak Drive
$3,695,000
Red Ledges 33
Red Ledges
Heber City, UT
Single Family
5728 sq ft
5 Beds / 5.00 Baths
1.32 acres
#12104116
Jenee Hibler - - 8018980710
Days on market - 1
3220 Horsehead Peak Court
$3,500,000 Pending
Red Ledges 33
Red Ledges
Heber City, UT
Single Family
5736 sq ft
5 Beds / 5.00 Baths
0.84 acres
#12102100
Jamison Frost - Summit Sotheby's - 625 Main - 4355132820
Days on market - 108
1254 Explorer Peak Drive
$3,495,000
Red Ledges 33
Red Ledges
Heber City, UT
Single Family
6921 sq ft
4 Beds / 5.00 Baths
0.88 acres
#12104187
Chris Maddox - - 8016572798
Days on market - 1
2414 E Flat Top Mountain Dr (Lot 93)
$3,495,000 Pending
Red Ledges 33
Red Ledges
Heber City, UT
Single Family
5191 sq ft
5 Beds / 7.00 Baths
0.52 acres
#12102186
Christine Paramore-Fielding - - 8016318890
Days on market - 3