Education
SUMMIT COUNTY PUBLIC SCHOOLS There are three school districts in Summit County: North Summit, Park City and South Summit. The Park City School District has aligned grades in the following configuration:
| | | | |
| --- | --- | --- | --- |
| Parley's Park Elementary (K-5) | McPolin Elementary (K-5) | Trailside Elementary (K-5) | Jeremy Ranch Elementary (K-5) |
| Treasure Mountain Middle School (8-9) | Ecker Hill Middle School (6-7) | Park City High School (10-12) | |
North and South Summit School Districts have three schools each.
North Summit School District, located in Coalville, includes:
North Summit Elementary (K-4)
North Summit Middle School (5-8)
North Summit High School (9-12)

The South Summit School District in Kamas is comprised of:
South Summit Elementary (K-6)
South Summit Middle School (7-9)
South Summit High School (10-12)
All of the Park City schools offer the state regulated core curriculum. All elementary schools are required to offer reading, math, science and social studies. They also offer physical education and computer classes. Core curriculum for the middle schools covers language arts (writing and reading), math, science, social studies (history), healthy lifestyles (health and physical education) and information technology (computers). Expanded curriculum includes drama, music, band, French & Spanish, visual arts, dance, shop, home economics, and life skills classes. Outdoor education programs allow students to experience nature and hiking as well as learning about environmental issues through slides, lectures and hands-on projects.
The high schools in Park City offer all required subjects along with a wide variety of electives. Students are encouraged to take additional classes in core subjects, such as math and science, as well as advanced classes to prepare for college. For those students who may not attend college, the schools offer a variety of technical and vocational subjects such as nursing, mechanics and computer applications. The list of classes offered varies by school.
In addition, the high schools offer programs such as release time for Latter-day Saints (Mormon) Seminary, work release programs, student newspapers and numerous clubs and organizations for all students. Varsity sports such as basketball, soccer, track, tennis, swimming, and cross country are available for both female and male students. Student must meet minimum academic requirements to participate.
Because of the importance of skiing in the area, Park City High School has a specialized program known as the Park City Ski Educational Foundation. The ski program, which was founded in 1980, provides students who are officially on the Park City Ski Team an opportunity to train on a daily basis while continuing their education. During the winter months participants attend classes in the morning and are dismissed at noon for on-the-hill training. Three times a week ski team members return to the high school to meet with a full-time, certified tutor. Many of these students also attend classes during the summer.
SUMMIT COUNTY PRIVATE SCHOOLS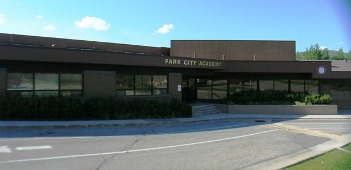 Park City Academy (formerly Carden Christian Academy) is a private primary/secondary school. Children are accepted for preschool at age three. The curriculum covers literature, computer science, mathematics, writing, science, foreign language, fine art, physical education and cultural enrichment. The school is non-denominational but does have instruction in bible studies. Park City Academy is located near Kimball Junction in a newly expanded facility with a state-of-the-art computer lab. Current enrollment is approximately 175 student. Class sizes are small for individualized instruction. Uniforms are worn by students and tuition assistance and payment plans are available based on need. Classes run from the end of August until early June; there is also a limited summer schedule.
The Winter Sports School in Park City is a private college-preparatory high school for serious winter athletes, located at the Utah Winter Sports Park. Classes run from mid April to mid November which allows the student to compete during the winter. The school follows all state regulated core curriculum and provides a full year of English, history, mathematics, science, foreign language and art in each summer session. Students may participate in extra-curricular activities at the Park City High School. Scholarships are available based on need and there is limited boarding available.
Soaring Wings Montessori School provides private instruction for children ages one to ten. It is a full affiliate of the American Montessori Society. Soaring Wings offers classes in mathematics, language, science, social studies, Spanish, the arts and physical education. It is located in the Park City Library and Education Center.
The Oakley School located in Oakley, is a private college-preparatory high school. The Oakley School maintains "high academic standards in a context that nurtures thought-fulness, emotional vitality, social responsibility and physical health".
Please call 435-783-5001 for more information.
Park City School District
www.parkcity.k12.ut.us
District Office Dave Adamson 435-645-5600
Park City School Phone Numbers
Jeremy Ranch Elementary
McPolin Elementary
Parley's Park Elementary
Trailside Elementary
Ecker Hill Middle School
Treasure Mountain Middle
Park City High School

Park City School Education Foundation - Lynn Heinlein


435-645-5670
435-645-5630
435-645-5620
435-645-5680
435-645-5610
435-645-5640
435-645-5650


435-615-0235

North Summit School District
www.nsummit.k12.ut.us
District Office - Steve Carlsen

North Summit School Phone Numbers
Elementary
Middle School
High School
Bus Garage
Swimming Pool



435-336-5654


435-336-2101
435-336-5678
435-336-5656
435-336-2198
435-336-2737

Other Park City School Facilities

Transportation Facility
Aquatic Center at Ecker
Eccles Center Box Office

435-645-5660
435-645-5617
435-655-3114

South Summit District
www.ssummit.k12.ut.us
District Office - Timothy W. Smith

South Summit School Phone Numbers
Elementary
Middle School
High School
Bus Garage
Swimming Pool



435-783-430


435-783-4318
435-783-4341
435-783-4313
435-783-2373
435-783-2423

Private Schools
Higher Education in Utah
University of Utah
The U of U is a major urban public research university with significant programs of sponsored research and of graduate, professional, and undergraduate education in 15 colleges and professional schools and their authorized degree programs, including law and medical schools. President Michael K. Young
Utah State University
USU serves as the state's land-grant institution under state and federal legislation and is a primary center of university research and of graduate, professional, and undergraduate education in numerous authorized fields of study. President Stan Albrecht
Weber State University
WSU is a student-centered institution focused on two- and four-year programs with a strong commitment to applied learning in technical, professional and liberal education. Selected masters programs are also available. President F. Ann Milner
Southern Utah University
SUU has the mission of a regional, comprehensive, undergraduate institution with a broad program of liberal and professional education, and is a primary center for service and cultural programs designed to advance the southern Utah area. Selected masters programs are also available. President Steven D. Bennion
Snow College
Snow College is an open access comprehensive community college that offers a broad range of general/liberal education and vocational/technical programs leading to Associate of Arts, Science, or Applied Science degrees. Numerous specialized short-term vocational training certificates and diplomas are also offered. President Michael T. Benson
Dixie State College
Dixie College is an open access, comprehensive community college with a mission of providing general and liberal education as well as applied technology programs leading to Associate of Arts, Science, or Applied Science degrees. Certificates are awarded for short-term and applied technology programs. President Robert C. Huddleston
College of Eastern Utah
CEU is an open access, comprehensive community college with a mission of providing general and liberal education as well as applied technology programs leading to Associate of Arts, Science, or Applied Science degrees. Certificates are awarded for short-term and applied technology programs. President Ryan Thomas
Utah Valley State College
UVSC is comprised of two interdependent divisions. The lower division embraces the mission of an open access comprehensive community college which provides general and liberal education as well as applied technology programs leading to Associate of Arts, Science, or Applied Science degrees. Certificates are awarded for short-term and applied technology programs. The upper division consists of three Baccalaureate degree offerings. President William A. Sederburg
Salt Lake Community College
SLCC is an urban, multi-campus, open access, comprehensive community college with a mission of providing applied technology education as well as general and liberal education leading to Associate of Arts, Science, or Applied Science degrees. Certificates are awarded for short-term and applied technology programs. President to be determined
Brigham Young University
BYU seeks to develop students of faith, intellect, and character who have the skills and the desire to continue learning and to serve others throughout their lives. All instruction, programs, and services at BYU, including a wide variety of extracurricular experiences, should make their own contribution toward the balanced development of the total person. President Cecil O. Samuelson
Western Governors University
Western Governors University is a unique institution that offers degrees and certificates based completely on competencies -- your ability to demonstrate your skills and knowledge on a series of assessments -- not on required courses. WGU is governed by a Board of Trustees made up of 14 members. President and CEO: Robert Mendenhall
Westminster College
Westminster College is a private, nondenominational college that prepares its students for success through a liberal arts foundation combined with professional programs. President Michael S. Bassis