Bald Eagle Club at Deer Valley® Resort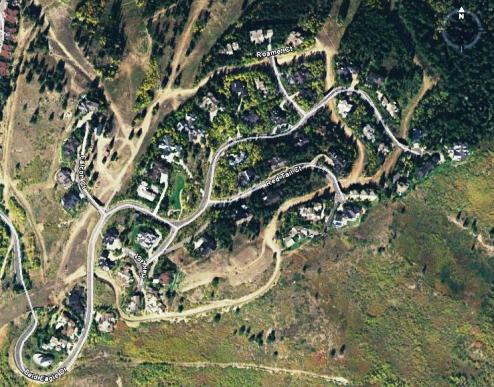 The Bald Eagle Club Community at the top of Bald Eagle Mountain at Deer Valley Resort in Park City, Utah is one of the area's first and still most exclusive ski-in/ski-out luxury residential communities. The Bald Eagle Club is a private gated community in the Upper Deer Valley Park City real estate neighborhood.

The Bald Eagle subdivision covers approximately 126 acres (70 of which are deeded open space) and is home to 7 ski runs. The area sits at the apex of 3 Deer Valley Resort ski lifts: Carpenter Express, Homestake, and Crown Point. The Bald Eagle Club Community was born in the fall of 1989 when construction crews began building the roads " Bald Eagle Drive, Red Tail Ct, Falcon Ct, Roamer Ct, and Hawk Ct", tunnels, and five bridges that allow for vehicle and ski access. The fist homes followed in the early 1990's. The area is now home to just over 50 residences.

Homes in the Bald Eagle Club subdivision of the Upper Deer Valley Park City real estate area range from the very visible to the very well hidden. The home on lot 38 in the Bald Eagle Club with its unique architecture is one of the most visible and asked about homes at Deer Valley and the homes on Falcon Ct due to their proximity to the Homestake and Silver Lake Express Lifts are peered at by all who pass by on chairs. Other homes in Bald Eagle at Deer Valley are so well hidden in the pines and aspens, or set far enough back from the ski runs that they are hardly perceptible to people skiing.

The residences within the Bald Eagle Club can all be classified as luxury estates. The homesites range up to a little more than 1.5 acres and the homes range in size from modest 5500 square feet to nearly 15,000 square feet. The Bald Eagle Club is a truly special area within Park City; and a real estate area that has few equals in the world.
Bald Eagle Club at Deer Valley® Resort
$5,395,000
7893 Red Tail Court
Upper Deer Valley Resort
Bald Eagle Club
Park City, UT
Single Family
8413 sq ft
6 Beds / 9.00 Baths
0.41 acres
#11606120
John-Ordean - - (435) 659-1175
Days on Market - 856
$1,795,000
7871 Red Tail Court
Upper Deer Valley Resort
Bald Eagle Club
Park City, UT
Land
0 sq ft
0 Beds / 0.00 Baths
0.47 acres
#11605381
Mary-Leader - Summit-Sotheby's---625-Main - (435) 714-0533
Days on Market - 37
Loading More Results