The Cache at Silver Lake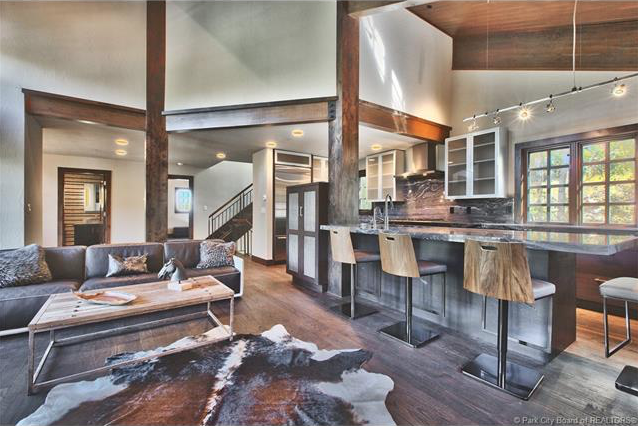 Luxurious Deer Valley Homes
At The Cache at Silver Lake community you'll find a set of larger Upper Deer Valley homes. Completely immersed among the towering trees you'll experience a sense of peace and tranquility — you have gotten away from it all. The secluded community offers the feel of country living with wildlife and pristine fields.
This Deer Valley real estate overlooks the popular Silver Lake Village and is situated very near popular Deer Valley ski runs. The units are spacious, featuring vaulted ceilings and lots of space for entertaining. These Deer Valley homes have en suite bedrooms, multiple fireplaces, and many high-end luxury finishes. You will also enjoy the convenience of two-car garages and heated driveways.
Silver Lake Village
Silver Lake Village, where you'll find the Cache at Silver Lake, is one of the highlights of Deer Valley Resort. It sits at 8,100 feet elevation, which offers stunning views.
The Village offers wonderful shopping and dining options, including one of Deer Valley's most popular destinations — McHenry's Beach, where you can enjoy food and drink, between runs on the slopes of Deer Valley.
Restaurant offerings include delicious restaurants such as The Mariposa, The Silver Lake Restaurant, and the Royal Street Café. You'll be able to dine in elegant atmospheres or in a casual, family friendly ones as well.
Park City Area
While these Deer Valley homes are ideal for enjoying the quiet seclusion of the Cache at Silver Lake, there's so much to do in the Park City area. The Cache at Silver Lake is also located just a short distance from Park City's Historic Main Street, where you can enjoy even more shopping, dining and entertainment. It is also just a short distance from many other area activities. You can enjoy a day at the lake at nearby Jordanelle Reservoir. Take in a round or two at one of the many terrific golf courses including Park City Golf Course and several others. You are also close to many family friendly activities such as movie theaters and recreation centers.
Purchasing Deer Valley Real Estate
Current listings for The Cache at Silver Lake will be shown below. If you are interested in purchasing one of our Deer Valley homes for sale at the Cache in Silver Lake, give us a call. We can also show you our complete selection of Park City and Deer Valley real estate. Whether you are looking for a family friendly home or an opulent vacation or second home, our team of experts knows the area and its unique real estate market. At You in Park City, we are here to help you find the perfect property.