The Chateaux at Silver Lake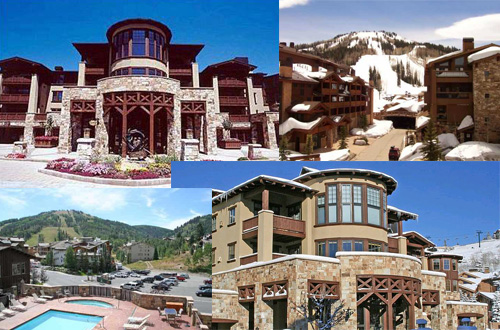 When you first enter the Chateaux at Silver Lake you can't help but be impressed by the modern take on the old world French Chateaux. It is both comfortable and elegant and delivers the mountain feel that many are looking for when considering the purchase of luxurious Park City or Deer Valley real estate. Located in the coveted Silver Lake area at mid mountain Deer Valley it is an easy walk across Royal Street to the ski lifts which are open both winter and summer for recreational access. The Silver Lake area also offers many of the amenities consistent with a resort area like Deer Valley; fine restaurants, shops and activities and much more. With many #1 rankings Deer Valley delivers an exceptional experience so does the Chateaux at Silver Lake.
The Chateaux at Silver Lake is a condominium hotel that was built in 1999. It offers whole ownership realty in buildings A and B where there are 51 condos that are available in 2, 3 and 4 bedroom configurations. These condominiums range in size from 1,379 square feet up to 2,760 square feet. The design of The Chateaux at Silver Lake creates a great deal of flexibility for nightly rentals as many of the condos can be locked off and rented as smaller units.
In addition to over 9,000 square feet of meeting space the Chateaux offers all of the amenities one would expect in a hotel of this caliber all of which are delivered with the five star services that have set The Stein Eriksen Lodge apart from many other hotels in Park City. In the summer of 2009 The Chateaux at Silver Lake contracted Steins to manage its HOA, rooms and guest experience. Amenities at The Chateaux include a large atrium lobby, on-site check-in, evening turndown service, concierge and bell services, complimentary wireless service in each guest room, outdoor heated pool and hot tub, fitness center, specialty shops, underground parking and a gourmet restaurant and lounge.
When considering the sale or purchase of a Chateaux at Silver Lake condominium it is important to take into consideration the views from the condo. Some have Deer Valley Ski area views, some have views of the courtyard area and some have views into a landscaped park like setting. Generally the price will be higher in condos with ski area views. All condos are decorated by the owners so style and quality will vary from one condo to another.
The condos in building 'C' are offered as a 1/6 fractional interest. The luxuriously furnished condos range in size from 2,200 square feet to over 2,800 square feet and have three or four bedrooms.
Upper Deer Valley Subdivision Directory
The Chateaux at Silver Lake
7815 Royal Street
$2,499,000
Upper Deer Valley Resort 05
Chateaux At Silver Lake
Park City, UT
Condo
1857 sq ft
3 Beds / 4.00 Baths
0.00 acres
#12101068
Valen Lindner - Summit Sotheby's - 625 Main - 6198653646
Days on market - 228