Enclave
The Enclave condominiums are located at Mid Mountain in Deer Valley Resort Silver Lake area which is one of our favorite areas in the Deer Valley Resort. Why are we so positive about the Silver Lake area? The reason is simple. Silver Lake at Deer Valley is a resort community unto itself complete with retail shops, ski rental stores and several of Park City's finest restaurants including The Mariposa and Stein Eriksen's Glitretind. There is also exceptional ski access from this mid-mountain location and during the summer the Sterling lift operates to provide biking/hiking access for people of all fitness levels. Two of the reasons people buy Park City Real Estate in the first place is for the wide variety of outdoor adventures available and Silver Lake is a gate way to the outdoors. All of this is just a five minute walk from the Enclave.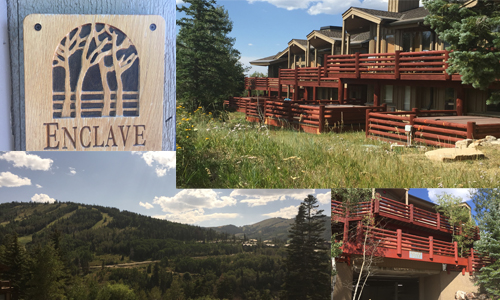 The Enclave offers two and three bedroom townhome style condos that range in size from 1,728 square feet to 2033 square feet. There are a total of 17 condos which were built in 1984. Originally the condos had interior hot tub areas. Over the years almost all of the condos have undergone some level of remodel which has included moving the Hot Tubs outside to the lower decks. The space created by removing the hot tub is now either being used to give more space to the great room or to provide an additional bedroom.
A typical layout for the Enclave Condos has a kitchen, dining room and spacious gathering area on the main level and the bedrooms are located on the lower level. Again these condos have undergone a wide variety of renovations and upgrades so pricing and fit and finish can vary significantly from condo to condo.

Other compelling reasons to consider the Enclave when researching where to buy a Park City condo are the unbelievable views of Empire Canyon, Old Town and the Park City Ski area. These condos are located in an Alpine setting and look out to the trees which is what many people envision when they are thinking about buying their mountain resort get-away. It is also located on the complimentary Park City bus route for easy access to all other areas of Park City.
string(1608) "SELECT r.*, CONCAT(a.first_name,' ',a.last_name) AS 'agent_name', a.agent_phone, a.agent_email, a.photo AS 'agent_photo', a.url AS 'agent_url', a.office_id AS 'agent_office_id' , o.office_name AS 'agent_office_name', o.office_phone AS 'agent_office_phone', o.office_address AS 'agent_office_address', o.office_city AS 'agent_office_city', o.office_state AS 'agent_office_state', o.office_zip AS 'agent_office_zip', o.office_website AS 'agent_office_url' , CONCAT(c.first_name,' ',c.last_name) AS 'co_agent_name', c.agent_phone as 'co_agent_phone', c.agent_email AS 'co_agent_email', c.photo AS 'co_agent_photo', c.url AS 'co_agent_url', c.office_id AS 'co_agent_office_id' , co.office_name AS 'co_agent_office_name', co.office_phone AS 'co_agent_office_phone', co.office_address AS 'co_agent_office_address', co.office_city AS 'co_agent_office_city', co.office_state AS 'co_agent_office_state', co.office_zip AS 'co_agent_office_zip', co.office_website AS 'co_agent_office_url' , SUBSTRING_INDEX(r.address,' ', 1) as 'house_number' FROM `agentsites`.`all_RElistingdata` r LEFT JOIN agentsites.all_agents a on r.mls_id=a.mls_id AND r.agent_code=a.agent_id LEFT JOIN agentsites.all_offices o ON a.mls_id=o.mls_id AND a.office_id=o.office_id LEFT JOIN agentsites.all_agents c on r.mls_id=c.mls_id AND r.co_agent_code=c.agent_id LEFT JOIN agentsites.all_offices co ON c.mls_id=co.mls_id AND c.office_id=co.office_id WHERE 1=1 AND r.mls_id in ('1') AND r.property_type in ('Condo') AND r.subdivision in ('Enclave') AND r.`status` in ('Active') HAVING 1=1 ORDER BY price DESC LIMIT 12"
Enclave Condominiums for Sale
did not return any results.
Loading More Results