Four Lakes Village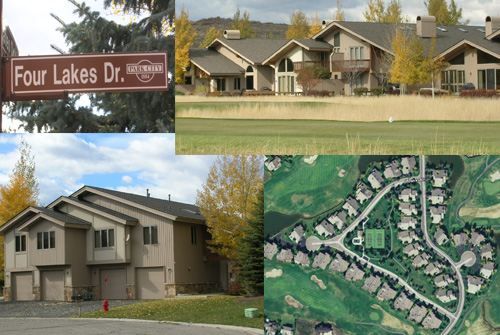 Four Lakes Village is nestled in the heart of the Park Meadows real estate area of Park City, Utah on Four Lakes or Estates Drive. These Park City townhomess are centrally located to all that Park City has to offer while at the same time feeling insulated from, what can be at certain times of the year, the high energy pace of our resort town. Being in the middle of the Park Meadows Golf Course, there is a quiet peaceful feel to the Four Lakes Village spacious layouts.

The Four Lakes Village twin homes were built between in three phases between 1991 and 1995. There are 74 of these condos. Most of the Four Lakes models have three bedrooms and three baths additionally there are some four bedroom four bath models. They range in size from 2200 sq. ft. to over 4000 square feet. Four Lakes Village townhomes feature an open design with plenty of natural light. Many models have the convenience of a main level master bedroom and most feature an attached two car garage.

Amenities at the Four Lakes Village community in Park Meadows include a clubhouse, pool and tennis courts. Nightly rentals are allowed but are limited to two rentals per year (more than 7 days and less than 30 days) for those looking to offset some of the carrying costs with rental income. These town-homes are not on the Park City bus route. Pets are allowed.

For many people the most positive feature of the Four Lakes Village is the wide variety of stunning views available from these Park Meadows homess. Depending upon the location of a specific condominium there are views across a pond, over the golf course and up Park City's ski areas.

Based on the age of Four Lakes Village condos there can be a wide range of interior finishes and individual amenities from one model to the next. Some have a private hot tub on the main level deck and at least one has a home theater. If you want a low maintenance home in the Park Meadows area Four Lakes Village should definitely be on your list.