Newpark Townhomes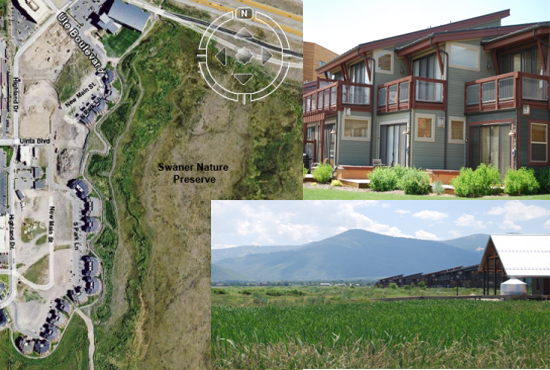 The Newpark Townhomes are a community of 95 townhomes in the Kimball Junction real estate neighborhood of Park City, UT. The Newpark Resort Townhomes are located on the western edge of the Swaner Nature Preserve to the east of the Newpark and Redstone commercial areas. This area is situated near the main entrance to Park City at the junction of Highway 224 and I-80.
Built in 2004, The Newpark Resort Residences are clustered townhomes (neighbors with common walls but not above or below) with usually 6 units per cluster. The exterior of the buildings have a modern edge and feel while the interiors have a cozy mountain contemporary feel. The floor plans for all units are very similar in their make-up with dual master bedrooms and a loft area in each of the 2 bedroom 3 bath condominiums ranging in size from 1271 to 1586 square feet. All of the Newpark Townhomes have a single car attached garage plus unassigned guest parking. The best feature of the Newpark Townhomes is that every unit borders the Swaner Nature Preserve. Depending on the orientation along the edge of the 850 plus acre Swaner Nature Preserve, the homes will have views over the open space to the Uintas or the Park City area ski resorts. A few on the southern edge will also have views of the Olympic Sports Park. Other common amenities include a trail along the preserve, 9 and 10' ceilings, solid knotty alder doors, alder cabinets, stainless steel appliances, granite kitchen countertops, and keyless entry systems.
The Newpark Resort Residences allow nightly rentals and should benefit in this respect with the addition of the Newpark Hotel and conference facilities. The HOA is managed by Greater PC Property (435-649-5351). Newpark's location at Kimball Junction allows for easy access to Salt Lake City and Park City's many tourist and recreational activities. A new outdoor amphitheater designed to accommodate 1000 people is set to open in July of 2008. There are also new commercial spaces being added to the area making it a strong vacation and recreational destination.