Park City Golf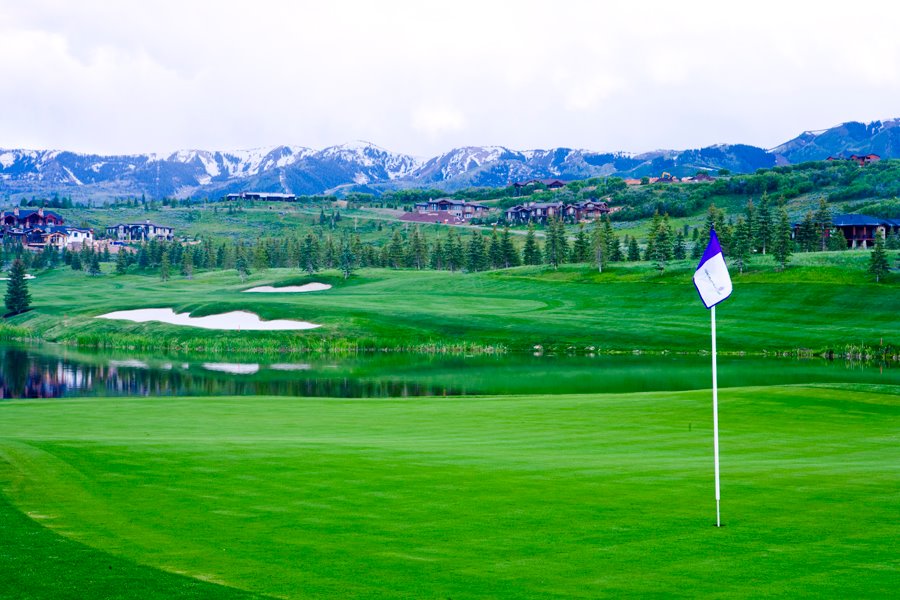 Park City is about more than winter sports and film festivals or hiking, biking or fishing…Park City has some of the nation's most beautiful golf courses with thousands of yards of the lushest greens around. With 15 splendid golf courses in the Park City area you won't be asking for a mulligan when visiting these fairways, but you sure will enjoy the cold beverages at the 19th hole! If your idea of paradise is spending your day hitting that dimpled white ball, then check out what these Park City golf courses have to offer!
Public Park City Golf Courses
When golfing in Park City, you have 2 choices, a public golf course or a private golf course. If you are vacationing here, most likely you will end up frequenting the public course. However, with affordable green fees, even if you choose to live in the city, you still may want to go with the public option. Park City Golf Club, considered one of the best Park City has to offer, was designed by William Neff in 1963…originally a 9-hole course, but expanded to 18 holes in 1976. With a panoramic view of the mountains, though, it may be a tad difficult to keep your mind on the game, instead of the beauty of landscape surrounding you! Park City golf has another gem for you to discover…the Silver and Gold courses at Soldier Hollow Golf Course! Both budget-friendly and breathtaking, this course was built on the site of the 2002 Winter Olympic Venue for cross country skiing, giving you the chance to perform on hallowed grounds frequented by former Olympic champions! The Silver Course is a little easier than the Gold Course (it's more user friendly to those who prefer walking their courses) but both offer a great challenge to even the most skilled of players. (Both courses were designed by Gene Bates.)
Private Courses
Private courses offer a slightly more intimate game of golf (only members and guests of members are allowed to play, unlike the public courses where everyone is welcome for a fee.) with a much higher cost. The costs involved in memberships generally also include the use of facilities, such as pools, gyms or dinner at the clubhouse. Park Meadows Golf & Country Club is the only private and member owned golf course actually located in the city limits of Park City. This course was designed by Jack Nicklaus and can be played in less than 3 hours. The dress code on this 18 hole, Par 72 course prohibits denim and requires golf attire only. If exclusivity is your desire, Glenwild Golf Club fulfills your dreams. Designed by Tom Fazio and ranked the number 1 golf course in Utah by Golf Digest this is the place that will convince you that moving to Park City was the best.idea.EVER. It's challenging, yet enjoyable to walk, luxurious yet relaxed: overall, Glenwild is just fun. With 18 holes and a very strict dress code, Glenwild Golf Club is still the place to rekindle your love affair with this centuries old sport.
Play A Round of Golf in Park City
The first documented mention of golf appeared in an edict issued by King James II of Scotland in 1457 and people have been writing about it ever since. Want to know what the fuss is all about? When you move to Park City, we at YouInParkCity.com can direct you to the Park City golf courses that make you feel like you are at home.