Parks Edge Townhomes
The Park's Edge community is located about 5 miles from the center of Park City, Utah in the Jordanelle area of park City real estate. Parks Edge is a community planned for 126 townhome style condominiums.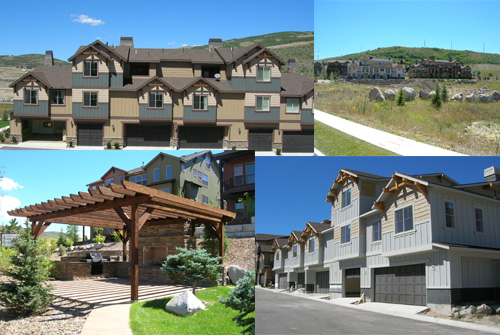 Park's Edge is a new development is still under construction. It is being built in phases and new phases start once others have sold through. Once enough units have been sold, work on the common area amenities will commence. Planned community features for Park's Edge include a 15 acre park, community clubhouse with pool and hot tub, fitness center, children's playroom, and more.

Current offerings at Parks Edge include 3 models (Freemont, Bridger, and Payette) ranging from 1368 square feet to 1475 square feet. All models are 3 bedrooms with 2 to 3 baths. Standard features include being 5 Star Energy Rated (based on insulation, windows, heating and cooling efficiency, lighting and appliance efficiency), gas fireplaces, Kitchen Aid appliances, Moen faucets, maple cabinets, granite or slab stone countertops, 9' ceilings, and 2 car garages. Upgrades include alder base and case, built in bookcases, and home theaters. Park's Edge townhomes come with a Quality Builders Warranty program offering 10 years of protection.

Park's Edge is located in a small area of Wasatch County that is accessed via Hwy 248 between Park City and Kamas. The important thing to note here is that Parks Edge along with many of the communities around the Jordanelle Reservoir is part of the Wasatch County School District; parents will need to petition the Park City School District (which is closer) if they wish for children living at Park's Edge to go to school in Park City.

While Parks Edge currently has few nearby retail and restaurant amenities, the overall area is approved for them. This area offers a unique opportunity for brand new developer home or vacation home property at a price not found within the Park City limits.
string(1664) "SELECT r.*, CONCAT(a.first_name,' ',a.last_name) AS 'agent_name', a.agent_phone, a.agent_email, a.photo AS 'agent_photo', a.url AS 'agent_url', a.office_id AS 'agent_office_id' , o.office_name AS 'agent_office_name', o.office_phone AS 'agent_office_phone', o.office_address AS 'agent_office_address', o.office_city AS 'agent_office_city', o.office_state AS 'agent_office_state', o.office_zip AS 'agent_office_zip', o.office_website AS 'agent_office_url' , CONCAT(c.first_name,' ',c.last_name) AS 'co_agent_name', c.agent_phone as 'co_agent_phone', c.agent_email AS 'co_agent_email', c.photo AS 'co_agent_photo', c.url AS 'co_agent_url', c.office_id AS 'co_agent_office_id' , co.office_name AS 'co_agent_office_name', co.office_phone AS 'co_agent_office_phone', co.office_address AS 'co_agent_office_address', co.office_city AS 'co_agent_office_city', co.office_state AS 'co_agent_office_state', co.office_zip AS 'co_agent_office_zip', co.office_website AS 'co_agent_office_url' , SUBSTRING_INDEX(r.address,' ', 1) as 'house_number' FROM `agentsites`.`all_RElistingdata` r LEFT JOIN agentsites.all_agents a on r.mls_id=a.mls_id AND r.agent_code=a.agent_id LEFT JOIN agentsites.all_offices o ON a.mls_id=o.mls_id AND a.office_id=o.office_id LEFT JOIN agentsites.all_agents c on r.mls_id=c.mls_id AND r.co_agent_code=c.agent_id LEFT JOIN agentsites.all_offices co ON c.mls_id=co.mls_id AND c.office_id=co.office_id WHERE 1=1 AND r.mls_id in ('1') AND r.property_type in ('Land','Condo') AND r.area_name in ('Jordanelle') AND r.subdivision in ('Park\'s Edge') AND r.`status` in ('Active','Pending') HAVING 1=1 ORDER BY price DESC LIMIT 12"
Parks Edge Homes for Sale
Loading More Results