Pinnacle Deer Valley Condos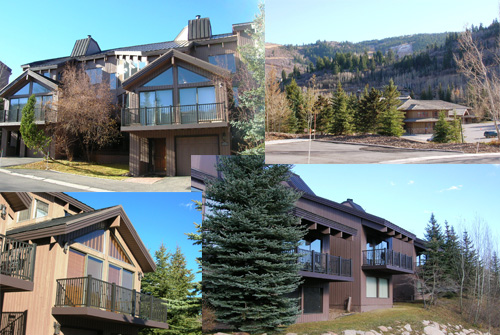 The Pinnacle condominiums are located just off of Deer Valley Drive on Amber Road, Pinnacle Drive and Pinnacle Court in Park City, Utah 84060. Pinnacle represents one of the largest developments in the Lower Deer Valley area of Park City real estate. Built in 1982 these 86 condominium residences are built in the townhome style, meaning you will have other condos to the side of yours but none above or below you. The Pinnacle townhomes are arranged in two and three condo configurations.
The Pinnacle at Deer Valley condominiums have three, four and five bedroom models available. They range in size from 3022 to 3708 square feet. All come with a one car attached garage. A unique feature of these condos is that they have at least two gathering areas; a real plus for larger groups. The Pinnacle condominiums are spacious, multi-level, have multiple fireplaces and lots of natural light. Some of the condos have great views of Deer Valley while some are oriented toward the Park City Ski Resort. There are no common area amenities at the Pinnacle but many of the condos have their own outdoor hot tub. The Pinnacle Condominiums allow pets and nightly rentals.
When one is considering the purchase of a Pinnacle at Deer Valley condo or any of the other multi level townhome style condos in the Park City real estate market whether the condo is a downhill or uphill build is an important factor. In the downhill build Pinnacle condos the kitchen/dining area, entry, and garage are on the same level; where as in the uphill builds there is usually a flight of stairs from the garage to the main living area. Another important factor to consider is if a condo has been remodeled. There are a few Pinnacle units still with original interiors while others have undergone recent comprehensive upgrades.
Perhaps the most compelling feature of the Pinnacle condominiums are their location in the heart of lower Deer Valley just a couple of bus stops from Park City's historic Old Town area and the restaurants, bars and shops on Main Street. The three Park City Ski Areas area can also be accessed on the free city-wide bus service.