Racquest Club Condos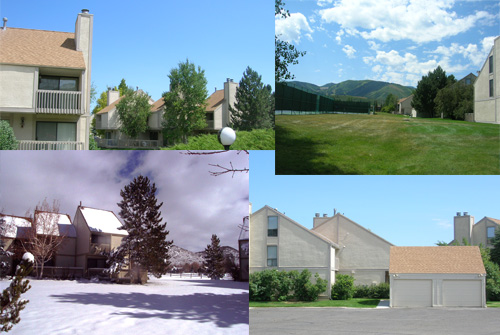 The Park City Racquet Club Condominiums (also called the Park City Racquet Club Village) is located in the Park Meadows area as defined in Park City Real Estate terms. This center of town location provides Park Meadows Golf Course views, as well as ski resort views from the Racquet Club Condominiums (these are of course unit specific). Park City's in town transit center runs nearby and provides easy access to all that Park City has to offer just minutes from this community.
The Racquet Club Condominiums are just 2 miles from the Park City Mountain Resort and 3 miles to Deer Valley Resort. Local groceries, shops, theaters and restaurants are less than a mile from Racquet Club Condos as are Park City schools.
The Racquet Club Village was built in the late 1970's with three phases which differ slightly. Racquet Club Condominiums consist of 180 two and three bedroom condominiums (most were originally 2 bedrooms with a loft style room above the master bedroom). Townhomes features a jetted tub and some units offer a spacious private hot tub on the deck. The fee-based Park City Racquet Club offers indoor tennis, fitness center, hot tub and pool.
A Recent update to the Racquet Club Village condominiums was to add garage doors and enclose the carports. This has cleaned up the overall look of the complex, but does not give a true "private garage" to unit owners as the now covered carports are assigned but shared.
Street names within the racquet club village are representative of well known tennis supplier names (Wilson, Spaulding, Bancroft, Prince, Davis, Vantage, Yamaha, Segura, Yonex, Head, Dunlop). The streets are all cul-de-sac spurs off the main road Racquet Club Drive which travels from one end to the other behind the Park City Municipal Athletic and Recreation Center (MARC) facility.
The Racquet Club condos have no facilities that are part of the HOA (Home Owners Association). The proximity to and reasonable rates make the use of indoor tennis, fitness center, hot tub and pool at the city owned Park City Racquet Club Athletic facilities easy.