Red Pine Condos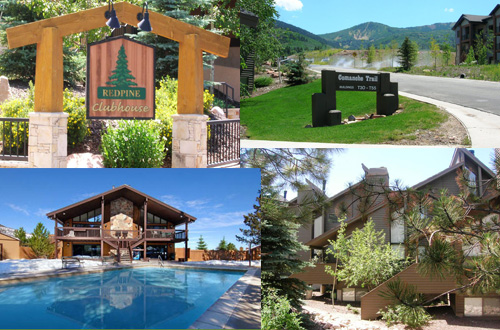 The Red Pine Condominiums and Townhomes at The Canyons Resort in Park City Utah are a grouping of 260 residential and rental real estate units sharing common amenities.
The location of the Red Pine Condominiums and Townhomes may be their best amenity. Access to The Flight of The Canyons Gondola, the new Frostwood Gondola and the Cabriolet people mover lift are all about 600 yards from the center of the Red Pine residential complex. The distance is probably too far to walk in ski or snowboard boots; but an easy summer stroll. Beyond their location near the base of The Canyons Resort in Park City (Park City Mountain Resort and Deer Valley are only minutes away), the Red Pine Condos and townhomes have a large outdoor pool facility with separate hot tub and children's play pool, sand volleyball court tennis courts and sauna at the central clubhouse.
The Red Pine Condos were built in 1979 and are made up of twenty five 8 unit buildings each with four 1 bedroom and four 2 bedroom models. The one bedroom condominiums are approximately 625 square feet with the 2 bedroom models having just over 1000 square feet. Each building has a letter designation with units 1-4 being one bedroom models and 5-8 being 2 bedroom models. Many two bedroom models also have a lofted storage or sleeping area. The Red Pine Condominiums all have 2025 The Canyons Resort Dr, Park City, UT 84098 as their address, to access the condominiums turn on Chalet Dr. from The Canyons Resort Dr or Red Pine Rd.
The Red Pine Townhomes in The Canyons real estate area in Park City are located next to the condominiums on Navajo Trail, Comanche Trail and Apache Trail. The 60 townhomes are fairly similar in layout and design; being just over 2100 square feet and having 3 bedrooms and 4 baths. Some owners have removed the built in hot tub and converted the area for more storage. The Red Pine Townhomes have covered assigned parking for each unit (unlike the condominiums). The townhomes were built in 1982. Like other Park City real estate opportunities from this era, there are many variables in terms of upgrades and remodels made by the individual owners along the way.