The Sky Lodge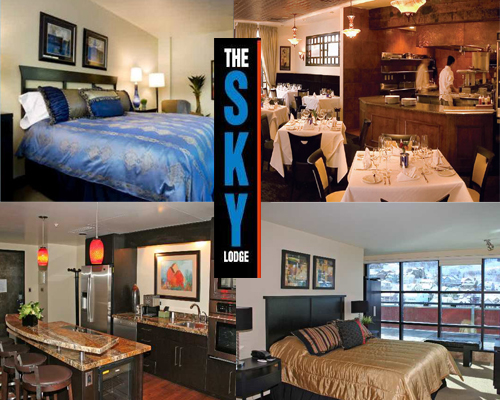 The Sky Lodge is a luxury boutique hotel located in the middle of Historic Main Street in Old Town Park City. The address at 201 Heber Ave. -the intersection of Heber and Main St.- puts this five star hotel in the heart of Park City, UT. The Sky Lodge is an ultra-stylish resort hotel offering all of Park City's amenities plus a restaurant offering both casual and fine dining, the Easy Street Brasserie, a bar and lounge, a bakery, the spa Amatsu, meeting and event venues, and more; all with five star service.
The Sky Lodge exterior holds on to some of the mountain town mining ambiance that Park City visitors know very well, but in general makes a break from the mountain contemporary design that is so prevalent throughout Park City. There is a definite urban feel in the fixtures and furnishings which the resort has tagged "Rocky Mountain Loft".
The Sky Lodge is being sold as fractional ownership with a total of 176 eighth shares offered. There are 22 units in total. The 2 and 3 bedroom models range from 1260 to 2700 square feet for the penthouse model. Owners buy individual units and not just the rights to a stay. Cloud Nine Resorts runs the homeowners association (HOA), takes care of the owner bookings and rotational intricacies of ownership. Each owner is guaranteed two ski weeks (mid Dec. - mid April) each year plus 21 other days throughout the year for their own. Stays not used by the owner may be rented out by the hotel and proceeds are split with the owner. The focus of ownership at the Sky Lodge is all about the service and amenities, how the ownership works is beyond the scope of this web page. Rest assured that no one will offer you free lift tickets to sit through a presentation and coerce you into buying. The Sky Lodge is ownership of a luxury resort condominium at a fraction of the cost.