Sundial Lodge at The Canyons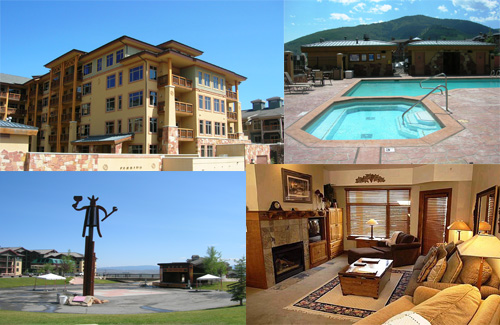 The Sundial Lodge at The Canyons Resort in Park City, Utah was completed in 2000 just as real estate at the resort started to take off. All of the recent real estate activity at The Canyons Resort is centered on location. The Sundial was the second real estate development of American Ski Company and the first to offer whole ownership condominium realty. The Sundial Lodge closed in the resort's forum area while adding retail and restaurant space to create more of a ski and snowboard base area.

The Sundial Lodge at The Canyons consists of 151 condominium hotel models that range from studios to 3 bedroom units (there are only two 3 bedroom units). The condos range in size from 440 to 1400 square feet and offer both mountain and valley views which overlook the forum/mall area. The Sundial Lodge units which face the Forum can provide great views of the concerts and shows the Village Resort Merchants Association (VRMA) puts on throughout the year. Note that some condominiums with mountain views have had their views obstructed recently by the Vintage on the Strand condominiums.

The Sundial Lodge is close enough to the slopes that many will call it ski-in, ski-out. Truthfully you will have 200-300 yards between your condominium and the Flight of the Canyons Gondola for ski and snowboarding access. The new Sunrise lift at the Canyons Resort may be slightly closer, but will ultimately also lead you to the gondola for full mountain access.

The Sundial Lodge offers many amenities to its owners and guests beyond its great Canyons Resort at Park City location. There is a fully staffed front desk at the Sundial Lodge, exercise room, ski locker room, outdoor pool and hot tub, BBQ area, rooftop hot tubs and cool plunge pools, plus an underground heated garage. Most units are managed by The Canyons (Talisker) as is the HOA for Sundial. Quarterly HOA dues cover CAMS, security, internet and phones.

Recent real estate activity and construction at The Canyons in Park City has made the location of The Sundial Lodge stronger. Its landmark location in the heart of the village center will make ownership and vacationing here desirable for everyone in every season.