Trails End Lodge - Pine Inn at Deer Valley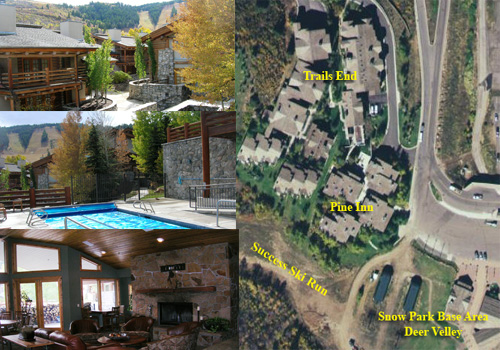 Trails End Lodge and the Pine Inn are ski-in, ski-out Park City condominium communities that, if available, should be considered by any buyer interested in ski and resort area property. They are located at the base of the Deer Valley ski area right next to the Snow Park Lodge; an easy walk to the shops and restaurants just beyond the lifts. Enjoy apre's ski from the comfort of your own deck or mingle with the skiers and listen to the music at Snow Park. For those who want to venture in to Old Town or Park City Ski area or the Canyons the Park City's free bus system will pick you up right next to the Trails End/Pine Inn entrance off Deer Valley Drive. For many prospective Park City home owners these condos are what Park City Real Estate is all about.
The Pine Inn was built in 1985 and has a rustic log cabin feel and have floor to ceiling stone fireplaces. There are only 10 of these condos in the project and they feel more like a single family home than a condominium. These spacious condos range in size from 1348 square feet to 2784 square feet and are available in two and three bedroom configurations. All Pine Inn condos have private decks with hot tubs; not a bad place to relax and watch the last people skiing down the runs at the end of a great day of skiing. Some of these condos have undergone extensive remodeling and can be a great value when compared to other newer Deer Valley ski-in, ski-out developments.
The Trails End Lodge was built in 1997 in a traditional stacked condominium style. The condos are one to four bedroom units that range in size from 1008 square feet to 3282 square feet. These condos come complete with a private hot tub on the oversized decks. When considering purchasing at Trails End views are one factor that should be considered; some face the ski runs and lifts, some look at open space and others look across the valley to Deer Crest, some of the priciest real estate in Deer Valley and Park City. In addition to the amenities that are shared with the Pine Inn these condos have radiant floor heating and fireplaces.
The Pine Inn and Trails End condominiums share common area amenities which include underground parking, a heated outdoor salt water pool, steam room, massage rooms, an exercise room, business center and a guest lounge with catering kitchen. The lounge, named the Aspen Room, can be used for meetings or special events such as wedding which help to generate year around rental occupancy.