Woods of Parleys Lane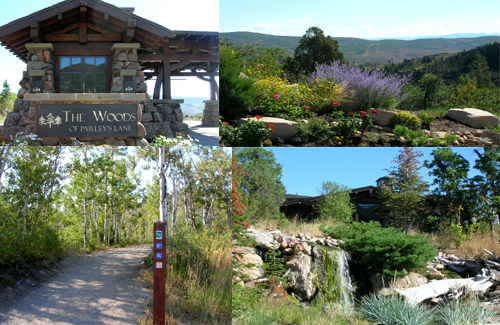 The Woods of Parley's Lane is a 192 acre Estate Lot community conveniently located near the top of Parley's Summit with easy access to Interstate 80. It is only about a 20 minute drive from both downtown Salt Lake City and Park City. So if your search for Park City Real Estate is for either a primary residence or a second home and you are looking for a luxury home or luxury home building site, the Woods of Parleys Lane should be considered. The community offers 44 wooded home sites, some of which have been built on. The approximate size of the lots ranges from 1.2 to 2 acres with over 3 acres of community open space per lot. The Woods of Parleys Lane lots are accessed by a private road that meanders through this mountain community. Luxury Park City homes and home sites here are nestled in groves of aspen and fir trees. The elevation of 6500 feet and the south facing exposure of many of the lots helps to keep the winters milder than many of the areas surrounding Park City that have a higher elevation and are located on the north face of the Wasatch Front and Back.
The forward thinking developers of The Woods of Parleys lane committed over 80% of the land to open space, disturbing as little of this pristine environment as possible. As a result this area is frequented by moose, elk, deer and other wild life still call the Woods home; not bad neighbors. The building guidelines will help to insure that the natural beauty of the area is maintained. The 4 to 5 miles of trails within the gates connect to the Great Western Trail which makes for exceptional hiking, snowshoeing and biking within the community.
Imagine: It is Saturday and you had a rough week at the office, the sun is rising in a blue crystal clear sky over the Uinta Mountains and you are sitting on a deck sipping a cup of coffee. The smell of the fir trees draws your attention to the forest below where you see a deer leisurely grazing. The rest of the family wakes up, eats breakfast and then you all head to the ski area for another exceptional day of skiing together. Work is gone from your mind but where the heck are you? You are at your new Park City home in The Woods of Parley's Lane.